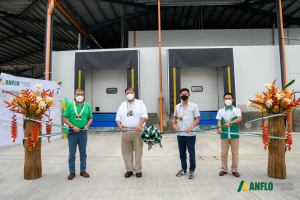 ANFLO Industrial Estates celebrated the opening of its Cold Storage Facility with a Blessing and Ribbon Cutting Ceremony last July 16, 2021.
The new Cold Storage located in the 63-hectare agro-industrial park, Anflo Industrial Estate, is fully operational and is open to locators.
The Inauguration of the facility was attended by Anflo executives, officers, and business partners.
The cold rooms are the latest milestone of the Anflo group and offer modern facilities to manage locators' temperature-controlled requirements.
Despite the pandemic, the team focused on completing this first phase of the park's cold storage facility. With an initial capacity of 780 pallets, the facility aims to help supplement the much-needed cold storage requirements of the Davao region.
After a month that AIE announced that it was ready for locators, 75% of the facility is already occupied.
The facility is ideal for food processing companies and distributors of finished products.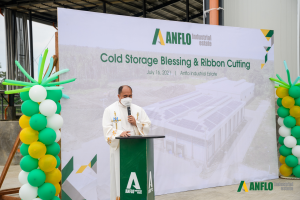 The first completed cold storage building houses four freezer rooms that can accommodate products that require an ultra-low temperature.
The temperature range for these freezer rooms is -18°C to -25°C which is the required temperature for the refrigeration of several products such as fish and seafood, meat, poultry, frozen food, ice cream, vaccines, and more.
AIE is looking to continuously expand its cold storage facility by adding chiller rooms and blast freezers to accommodate a wider range of products such as fresh produce, fruits and vegetables, and cheese and dairy.
In Mindanao, AIE cold storage is the only cold storage facility in an industrial park open to locators even outside of the park and is part of only a handful of developers in the Philippines doing so.
Strategically located cold storage facilities can benefit the lessees, its distributors, and even consumers. AIE is located 300 meters away from Davao International Container Terminal (DICT), Mindanao's premier container terminal for the efficient import and export of mainly agricultural products. DICT is a World-Class Port Terminal Facility and is the no.1 container terminal in Mindanao in terms of foreign container throughput. The proximity to this development provides a strategic way for locators of the park and even cold storage users in AIE to import and export their products. The new project will help plug gaps in the agricultural supply chain in Mindanao.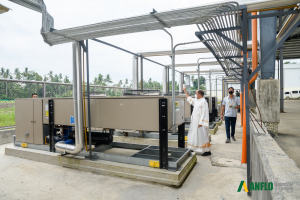 AIE in particular provides the opportunity for businesses to locate in the "Food Basket" of the Philippines and ultimately in the heart of the Davao Region which is the economic capital of Mindanao. It provides support facilities and services required for processing and agro-based manufacturing activities, utilizing local agricultural products as raw materials.
Mindanao largely produces 40% of the country's food needs and 30% of the national food trade. Cold storage facilities are indispensable due to the temperature sensitivity of the products it caters to. Cold storages are an essential part of preserving and prolonging the shelf life of food and assures that these food products reach the consumer safely.
In a recent interview, Ricardo F. Lagdameo, President of Damosa Land, Inc. and Anflo Industrial Estate said, "Agro-industrial parks that can provide complete facilities including even a cold storage facility and direct access to a world-class container terminal, have the potential to fill in supply chain gaps in the industry. We aim to spur rapid development and economic growth in the countryside through developments such as this."
As a green and sustainable property developer, the cold storage is powered by solar panels to help reduce carbon emissions.
This cold storage facility complements the industrial space leasing business of the group as AIE also offers industrial lots for sale or lease and warehouses or standard factory buildings for lease.
Cold storage facilities emerged to be highly in demand especially with the logistical requirements of COVID-19 vaccines, food storage, and other essentials.
Services of the new cold storage facility include: Freezer Room Rental, Stuffing and Unstuffing, and Product Handling.
The post Anflo Industrial Estate celebrates opening of its cold storage facility with ribbon cutting ceremony appeared first on Mindanao Times.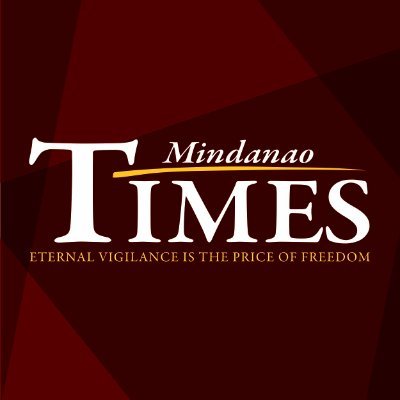 Source: Mindanao Times ( https://mindanaotimes.com.ph/2021/07/22/anflo-industrial-estate-celebrates-opening-of-its-cold-storage-facility-with-ribbon-cutting-ceremony/#utm_source=rss&utm_medium=rss&utm_campaign=anflo-industrial-estate-celebrates-opening-of-its-cold-storage-facility-with-ribbon-cutting-ceremony)