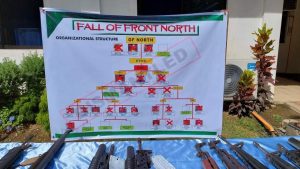 THE MILITARY reported that 12 top ranking officials of the New People's Army who surrendered were the ones who claimed that armed group's ranks have been weakened.
Those who surrendered, who were all under the Southern Mindanao Regional Committee, wereJoy James A. Saguino, deputy secretary of Sub Regional Command 1; Christian B. Pastor, commanding officer of Guerrilla Front 33; Eddie S. Genelsa, vice commander Regional Operations Committee; Paulette M. Santos-Castillo, regional coordinator of Rural Missionaries of the Philippines; Daniel Louis S. Castillo, second political instructor of Guerrilla Front 55; Pedro B. Arnado, regional chairperson of Kilusang Magbubukid ng Pilipinas-Southern Mindanao Region; Kurt Russel O. Sosa, secretary of Guerrilla Front 3; Roberto O. Rosete Jr., former commander Pulang Bagani Battalion; Ivan Conan S. Cael, secretary SRC3; Noel M. Legazpi, 1st deputy secretary of Far South Mindanao Region; Arian Jane O. Ramos, secretary of Guerrilla Front 55; and, Rurelyn Bay-ao of Youth Bakwit.
During a press conference at Balunto Hall, Camp General Manuel T Yan Sr., Tuboran, Mawab, Davao De Oro on Tuesday, those who surrendered claimed that the rebel movement has been falling and that it has also taken advantage of the indigenous communities.
They added that they also wanted to take advantage of the offer for them to return to their families and earn livelihood through the government programs.
They added that their surrender does not end their cause of fighting for justice and equality.
Lt. General Greg Almerol, commander of the Eastern Mindanao Command, said the military unit will continue running after the rebels.
"We are confident that the LGUs ((local government units) and government agencies will sustainably address the issues being exploited by the CTGs. I believe that the only way we can end local communist armed conflict is through our collective efforts and performing our mandates religiously," Almerol said.
The post 12 top rebel leaders surrender appeared first on Mindanao Times.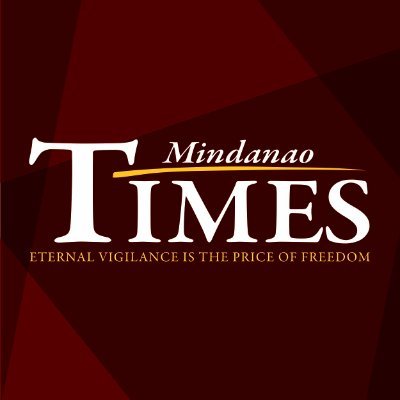 Source: Mindanao Times ( https://mindanaotimes.com.ph/2021/09/09/12-top-rebel-leaders-surrender/#utm_source=rss&utm_medium=rss&utm_campaign=12-top-rebel-leaders-surrender)