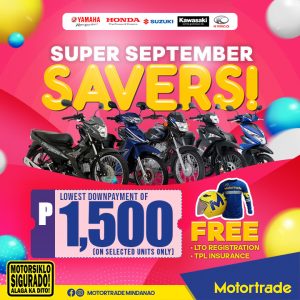 SEPTEMBER made even better with Motortrade Mindanao's Super September Savers. With the lowest downpayment price of Php 1,500 on selected units, you can now purchase your much-dreamed motorcycle unit at its best price. Plus, you can get a FREE exclusive Motortrade Half-face helmet and jersey, TPL insurance, and LTO registration upon purchase.
Super September Savers promo features Suzuki Raider J Fi Spoke with a downpayment of only Php1,500; Yamaha Sight115 Spoke with the lowest downpayment in the market of Php 2,700; Honda XRM 125 DS with a downpayment of only 1,900, among other discounted units; available on all Motortrade branches within Mindanao.
This promo runs until September 30, 2021, only, and customers may avail of this promo through our Motortrade Mindanao Multibrand stores, Motortrade Honda 3S and Yamaha 3S stores, or online through our Facebook page, Motortrade Mindanao.
Motortrade Mindanao also offers its ongoing promo – Customer Loyalty Program for September wherein Ka-Moto's wearing any Motortrade merchandise and owns a Honda motorcycle unit can avail FREE 2 Liters of fuel on selected gasoline flights stations all over Mindanao. For further details about this program, follow Motortrade Mindanao on all social media platforms for updates.
Moreover, Motortrade Mindanao shall announce its Anniversaya Raffle Promo winners this coming September 10, 2021. Ka-Motos, who purchased any Motortrade product or service in August, have a chance to win a Tough Mama Tower Fan, Mobile Phone, 1L ENEOS engine oil, Motortrade, Yamaha, Suzuki, and Honda exclusive premium merchandise, and many more! Tune in on our live raffle draw this September 10, Friday, 4:00 PM.
For Motortrade Mindanao's other ongoing promos: Suzuki Medical Frontliner Promo and Prompt Payment Discount Promo Rebate of P500, you may visit any Motortrade Mindanao branch near you or message us on our Facebook page for further details.
The post Motortrade's September treat | Super September Savers appeared first on Mindanao Times.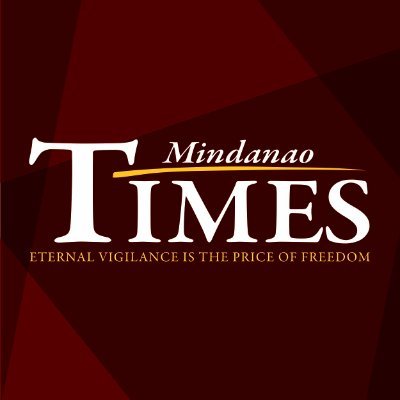 Source: Mindanao Times ( https://mindanaotimes.com.ph/2021/09/09/motortrades-september-treat-super-september-savers/#utm_source=rss&utm_medium=rss&utm_campaign=motortrades-september-treat-super-september-savers)