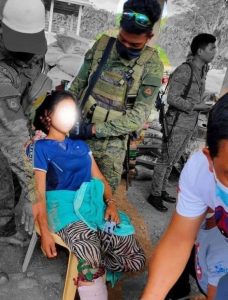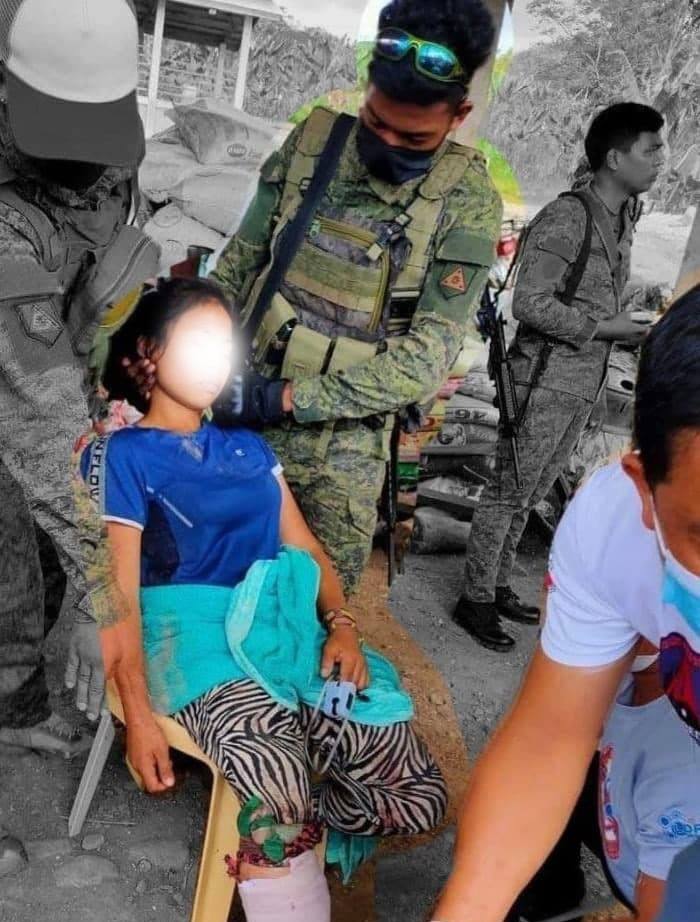 SOLDIERS of the 4th Infantry Division provide medical care to wounded female New People's Army (NPA) fighter captured by troops at Sitio Kamaca, Barangay Bontongon, Impasugong, Bukidnon around 11 p.m. on Sept. 23.
The military identified her as Lody Han-ayan Ampildon, alias Diane, 18, resident of Purok 5, Sitio Mahayag, Barangay Sreet, Peter, Malaybalay City, Bukidnon.
Maj. Francisco Garello Jr., the 4th Infantry Division spokesperson, said Ampildon was evacuated by helicopter to Camp Evangelista Station hospital (CESH) on Friday afternoon, Sept. 24. She has gunshot wounds in her left leg, right arm, and waist.
Maj. Gen. Romeo S. Brawner Jr, commander of 4ID, said that the accomplishment was a result of the 8th Infantry Battalion's continuous loudspeaker operations, which encouraged civilian residents to cooperate and report resulting in alias Diane's capture.
Brawner said alias Diane was a medic of Regional Sentro De Gravidad (RSDG) of the North Central Mindanao Regional Committee (NCMRC) and has been with the Communist Terrorist Group for 7 months.
"Our call of peace through loudspeaker operations since the encounter last Sept. 20 in Malaybalay City emboldened the populace in the said area to report the location of alias Diane to our troops," he said.
Maj. Ronald C. Ancheta, CESH officer-in-charge, said that since January 2021, there were already nine communist guerrilas who underwent major operation due to injuries caused by encounters with government troops. He said that as an officer and a surgeon, he will provide medical treatment whether one is a member of the CTG or an Army trooper in the name of dedicated service.
In his statement, Brawner said that the soldiers strictly adhere to the International Humanitarian Law and are professional individuals committed to respecting human rights even of those considered enemies of the state but unable to fight anymore.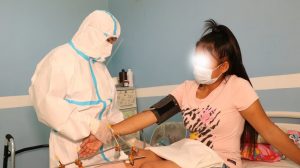 "Diane was abandoned and left behind by her group. Fortunately, our troops found her and immediately applied first aid to prevent a loss of blood. This is the true color of the Communist Terrorist Group, their NPA fighters are treated without regard and value. We appeal to them to reject this kind of treatment and instead follow the path of peace," he added.
Brawner Jr also highlighted the participation of the Army Doctors, Nurses, and other personnel as among the silent heroes that significantly contributed to the mission accomplishment of 4ID not only by ensuring to properly provide medical attention to injured and sick soldiers and their dependents but also in taking care and saving the lives of wounded members of the CPP-NPA-NDF.
It can be recalled that a wounded female NPA leader identified as Mary Joy Arevalo Antiha, the Political Instructor of Platoon Dos of Guerilla Front Malayag of NCMRC, who was captured along with other nine NPAs in an encounter with 88th Infantry Battalion (88IB) last Sept. 8 in San Fernando, Bukidnon was also given proper medical treatment by medical frontliners and underwent a successful major surgical operation.
Antiha, 24, resident of Valencia City, Bukidnon has been under the medical care of the Camp Evangelista doctors and nurses while recuperating from surgery and still in isolation after she was confirmed positive with COVID 19 Delta Variant CT 19 (mild case).
"I am thankful to the medical frontliners here in Camp Evangelista and to 88th Infantry Battalion for taking care of me even after the encounter. The soldiers were the ones who carried me and look for ways to get me treated. With my situation, the nurses here have always assisted me. Big thanks to them," Maryjoy said.
The division commander further said that Alias Diane and Nikki are among the living testimonies of how the Army respects human rights and cares for captured CTG members.
" It's a fulfillment on our part as soldiers to see that lives are saved. It's our belief that they are also victims of the wrong ideology and the treachery of the CPP-NPA-NDF," he said.
He again called all the remaining CTG members to return to the folds of the law and avail of the Enhanced Comprehensive Local Integration Program (E-CLIP). "Rest assured that your Army will ensure your safety and provide better opportunities as you transition towards the mainstream society," he further said.
The post Soldiers treat wounded NPA in Bukidnon clash appeared first on Mindanao Times.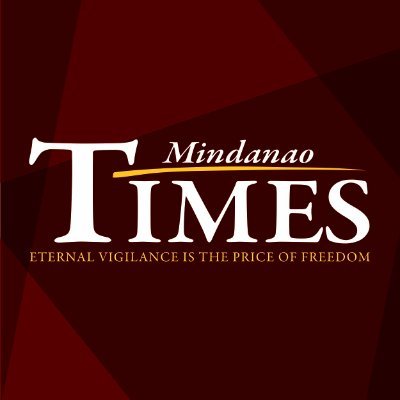 Source: Mindanao Times ( https://mindanaotimes.com.ph/2021/09/29/soldiers-treat-wounded-npa-in-bukidnon-clash/#utm_source=rss&utm_medium=rss&utm_campaign=soldiers-treat-wounded-npa-in-bukidnon-clash)