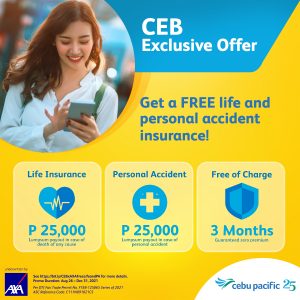 Give every Juan a chance to get free insurance
The Philippines' leading airline, Cebu Pacific (PSE: CEB), extends to the public the chance to get a free life and personal accident insurance coverage as it celebrates the first anniversary of the launch of CEB Health Protect, in partnership with one of the country's leading insurance companies, AXA Philippines.
The promo is open to all and not just to passengers. All juan has to do is sign-up and reserve a slot via: https://bit.ly/CEBxAXAAnniv. The special promo covers three months, worth PHP 25,000 for life insurance, and PHP 25,000 for personal accident insurance.
"We thank everyJuan for their continuous support and as we celebrate this milestone, we are happy to also extend this special promo for all of you," said Candice Iyog, CEB vice-president for marketing and customer experience.
Back in September 2020, CEB was the first to offer non-travel insurance products in the Philippine aviation industry, starting with the CEB Health Protect. This expansion of products is in line with the airline's goal to provide for the needs of the Filipinos during this time, spanning across concerns related to safety and security.
"As we continue to weather this pandemic, we make sure the welfare of our passengers is always top of mind. Our commitment to ensure a safe and convenient journey for everyJuan remains, more so now as we want to keep addressing needs that cover beyond travel," added Iyog.
"AXA is honored to be celebrating this milestone with Cebu Pacific as we uphold our commitment to help everyJuan protect what matters most to them, including their health," says AXA Philippines President and CEO Rahul Hora.
The CEB Health Protect provides coverage for the top three critical conditions, namely cancer, stroke, and heart attack. It also provides insurance benefits of up to P2 million, allowing the insured to receive up to 20% coverage for nine (9) minor critical conditions. Insured individuals can tailor fit the insurance coverage according to their personal needs and budget, with coverage available for as low as P535 monthly (for a 20-year-old, with P1 million coverage), along with flexible payment terms that are renewable up to age 75.
Selecting and purchasing your very own CEB Health Protect can conveniently be done online, as easy as booking and managing your Cebu Pacific flights. This will be readily available on the CEB website – once clicked, customers will be redirected to AXA's website for easier fulfillment of their selected insurance package.
CEB Health Protect is the first of a number of products under this suite of lifestyle insurance packages. The rest of the offerings will be launched in the coming months.
For more information, visit www.cebupacificair.com.
The post
CEB and AXA Philippines marks CEB Health Protect
appeared first on
Mindanao Times
.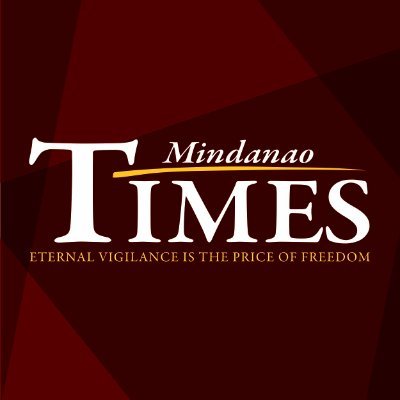 Source: Mindanao Times ( https://mindanaotimes.com.ph/2021/10/01/ceb-and-axa-philippines-marks-ceb-health-protect/#utm_source=rss&utm_medium=rss&utm_campaign=ceb-and-axa-philippines-marks-ceb-health-protect)