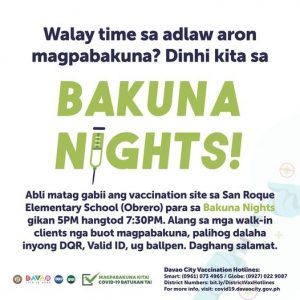 THE LOCAL government raffled off prizes during the Bakuna Nights set at 5 p.m. to 7:30 p.m. on Friday, October 1, at the San Roque Elementary School vaccination hub.
According to the City Information Office, the vaccinees may win any of the raffled items during the vaccination rollout designed for Davaoeños 18 years old and above, whether they have scheduled appointments or walk-ins.
Interested vaccinees must bring DQR, valid ID, and ballpen.
The raffling of items was one of the strategies that Mayor Sara Duterte had earlier announced to help encourage more individuals to get vaccinated, help reduce the current backlog, and hit the herd immunity target of 1.2 million for first doses of COVID-19 before the year ends.
During the Special Hours program of 87.5 Davao City Disaster Radio (DCDR) aired Monday afternoon, Sept. 27, the mayor said the first dose backlog is high, and the vaccine cluster of the Davao COVID-19 Task Force is looking for 438,800 potential vaccinees.
"Nakita nila ngadto naa na ta sa (We have reached the) segment of the population who will not go to the vaccine centers, people who do not believe in vaccines, and daily wage earners who think that it's more important to work than get a vaccine," Duterte said.
She said suggestions were raised during the Davao COVID-19 Task Force meeting to provide incentives during the first dose rollout for this segment and that it will be piloted in two vaccination centers.
Providing incentives for the first dose vaccination rollout, according to her, is understandable since the city has reached the point that people will no longer go to vaccination centers since they have to work for their daily needs, they have to take care of the children, or they have no money for fares if the vaccination sites are far from their homes.
With this, the mobile vaccinations that are being spearheaded by the Vice Mayor's Office and city councilors will also be expanded to reach more vaccinees in the barangays.
Davao City has administered a total of 716,793 COVID-19 vaccine for the first doses, and 583,002 second doses as of Sept. 25.
The post
City raffles off prizes to urge more people to get vaccines
appeared first on
Mindanao Times
.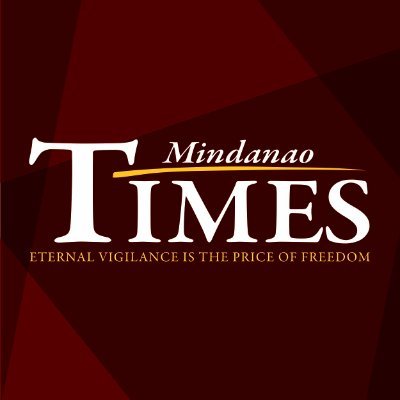 Source: Mindanao Times ( https://mindanaotimes.com.ph/2021/10/02/city-raffles-off-prizes-to-urge-more-people-to-get-vaccines/#utm_source=rss&utm_medium=rss&utm_campaign=city-raffles-off-prizes-to-urge-more-people-to-get-vaccines)