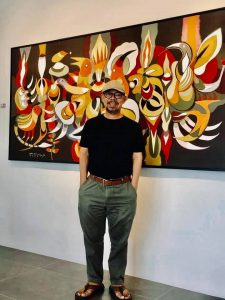 "In Art as in Life, what is important is the journey, not the destination…Art that has a purpose…" (Vic Cabuya Secuya)
It was a few weeks back when I got an unexpected call from Galerie Raphael's genial representative, Andy Tuason. Galerie Raphael, of course, is undeniably acknowledged as Davao City's "premiere gallery for world-class modern and contemporary art." For Galerie Raphael's inauguration at the Azuela Cove, it showcases Victor Cabuga Secuya's recent artworks labeled, "Secuya: Symbols and Meanings."
When I came to settle in Davao permanently in 1996, it was Victor Cabuga Secuya's painting I first came across while staying in one of the rooms of the Pearl Farm Beach Resort. The Secuya painting readily reminded me of the Japanese art of Sumi-e painting with the artist's brush strokes creating a deeply expressive artwork. Indeed, that Secuya painting had both the form of expression and a way of setting the mind philosophically which fascinated me. That was what intrigued me as to what kind of visual artiste Secuya was then.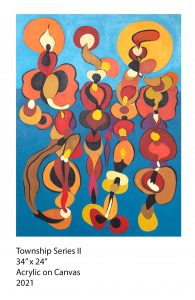 Chismis had it at that time in the 1990s when I was on my artist background investigation that Secuya, the esteemed painter with a colorful personal life, was rather reclusive and would be one uncomfortable subject to interview. After all, I was informed that Secuya is remarkably cultivated on the subjects of Sociology, Anthropology and Philosophy. Admirably, this visual artist was once a professor of Philosophy in various universities; and has had various curatorial stints at the Ethnological Museum of the Philippines, Liongoren Art Gallery, CCP, and the Davao Museum of History and Ethnography where he once served as Museum Director and member of the board. Not to fail to mention that Secuya is also a bonafide member of the Toastmasters International where he was honed in good communication and leadership skills. Secuya had a column as well on Arts and Culture in a Davao daily further amplifying his scholarly persona.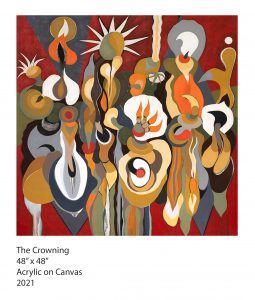 The second time I was impressed with Secuya's artworks was at his flower series exhibition mounted at the Museo Dabawenyo by about the turn of the 21st century. I thought by then that Secuya had already transitioned to a more attainable artiste as that exhibition of his was such a commercial success.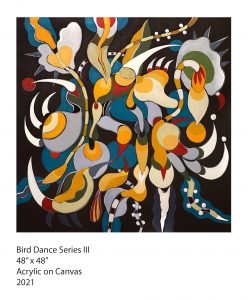 "My flower paintings? It was just a phase when I simply expressed literally what I saw in my surroundings. I have evolved by leaps and bounds since that flower series. I don't like to paint with reference now. When I was younger, I was much into Japanese art and culture as well. I've been painting for 40 years now. I still want to adhere to my promise to be an Abstract artiste till I die," revealed Secuya. And yes, Secuya has been at the forefront of Abstract Art in Davao. He has always held the conviction that paint could be shaped to convey energy, symbols and meanings.
"It is Wassily Kandinsky (1866-1944), the Russian painter, art theorist, and pioneer of Abstract art; and Arshile Gorky (1904-1948), the tragic Armenian-American painter who had a seminal influence in Abstract Expressionism, who both inspire me in abstract art," admitted Secuya while admiring these dearly departed iconic artists for their freedom to convey attitudes and emotions through nontraditional, nonconformist and nonrepresentational means like he does.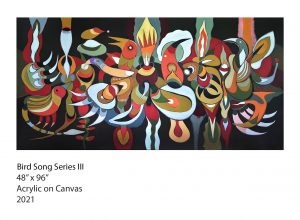 "However, African art has really captured my heart and soul that since then, my colors and even my forms are so influenced by what I saw and experienced in my trip to Africa. Most traditional African artworks are abstract. But my art is all mine and not African. I share with African artists the proclivity towards abstraction in the need to express an idea….My present art collection is all about symbols and meanings. I'm integrating my philosophical thoughts in these artworks. The natural forms are essentially symbols with corresponding meanings which are very personal," Secuya emphasized on his avocational interest.
"The purpose of my art is to express logos/symbols in natural forms and earth colors that I see in nature. To read my artworks, one must look for symbols that they can relate to. My works are not essays but more of poetry which has to be interpreted. The reader must enjoy my images; and one has the freedom to give his own personal interpretation of the images I have created."
Indeed, viewing Victor Cabuga Secuya's recognized works elicits an emotional response from viewers that requires a prolonged encounter with the artist's unique way of expressing his high-spirited art.
The post
Galerie Raphael's "Secuya | Symbols and Meanings" Debut
appeared first on
Mindanao Times
.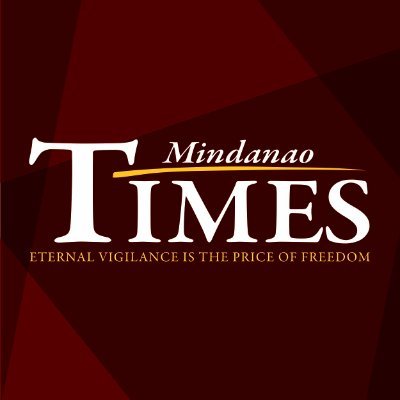 Source: Mindanao Times ( https://mindanaotimes.com.ph/2021/10/08/galerie-raphaels-secuya-symbols-and-meanings-debut/#utm_source=rss&utm_medium=rss&utm_campaign=galerie-raphaels-secuya-symbols-and-meanings-debut)