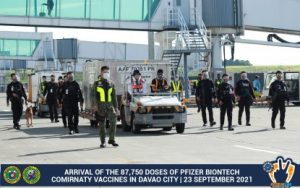 THE LOCAL government is ready to roll out almost half a million doses of Pfizer BioNTech Comirnaty vaccines to help ramp up the city's immunization campaign.
Dr. Michelle Schlosser, Davao City COVID-19 Task Force spokesperson, said on Oct. 7 that the Department of Health (DOH) in the region has received a total of 994,500 Pfizer vaccines donated by the United States government through the COVID-19 Vaccines Global Access (COVAX) Facility.
Of this figure, Davao City was allocated 468,000 doses. The health official underscored that this is the biggest single delivery of the US-manufactured vaccine brand so far the city has received since March.
"So far, the largest shipment of COVID vaccines in a day since the beginning of rollout," she said.
With this, they hope that it will help fast-track the vaccination effort of the Davaoeños. "Speeding up the achievement of herd immunity is a multifactorial effort. Vaccine allocation is just one of those factors," Schlosser said.
Based on the statement of DOH-Davao, these vaccines arrived at the Francisco Bangoy International Airport at 5:55 p.m. on Wednesday, Oct. 6.
The statement added that during the virtual acceptance ceremony held shortly after the arrival of the vaccines, the Director of the Office of Health of the United States Agency for International Development (USAID), Michelle Lang-Alli affirmed their commitment to help the country in its pandemic response.
"The United States has worked closely with the Philippines stakeholders throughout the pandemic to protect public health in strengthening local responses to COVID-19," Lang-Alli stated.
The data from the Davao City Vaccination Cluster on the Total Vaccine Administered shows that as of October 5, 2021, a total of 646,248 Davaoeños have been fully vaccinated while a total of 770,925 residents were inoculated with the first dose.
Davao City targets to inoculate a total the 70 percent of its 1.8 million population which is equivalent to 1.2 million to reach herd immunity. The officials are hopeful that by November, the goal will be achieved. But it is still dependent on the national government's vaccine allocation.
Meanwhile, Schlosser has renewed her call to the Davaoeños to visit the vaccination hubs and avail of the free vaccination program of the city, saying that all vaccines regardless of the brand are safe and effective.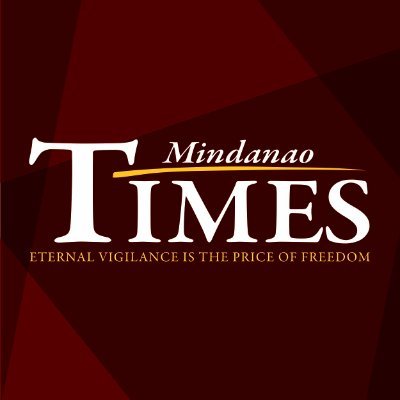 Source: Mindanao Times ( https://mindanaotimes.com.ph/2021/10/11/lgu-to-roll-out-468000-pfizer-vaxx-across-city/#utm_source=rss&utm_medium=rss&utm_campaign=lgu-to-roll-out-468000-pfizer-vaxx-across-city)