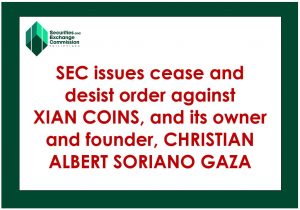 THE Securities and Exchange Commission has issued a cease and desist order against XIAN COINS, its owner and founder CHRISTIAN ALBERT SORIANO GAZA, representatives, salesmen, solicitors, agents, uplines, enablers, influencers, and any and all persons claiming and acting for and on their behalf.
The SEC will institute the appropriate administrative and criminal actions against any persons or entities found to act as solicitors, information providers, salesmen, agents, brokers, dealers or the like for and on their behalf.
The Commission also prohibits XIAN COINS, its owner and founder CHRISTIAN ALBERT SORIANO GAZA, its partners, operators, directors, officers, salesmen agents, representatives, promoters, and all persons, conduit entities and subsidiaries claiming and acting for and on its behalf from transacting any business involving the funds covered by this cease and desist order in its depository banks, and from transferring, disposing, or conveying in any manner, all assets, properties, real or personal, including but not limited to bank deposits, of which they may have any interest, claim or participation whatsoever, directly or indirectly, under its custody, to ensure the preservation of the assets for the benefit of the investors.
XIAN COIN claims to be a centralized digital currency powered by the Etherium Blockchain that is exclusively traded by its coin holders. Holders of XNC are promised that they will enjoy a high range of price stability and appreciation of value due to the fact that it is taking advantage of a single, centralized supply chain. We hope you could help us share this information to the investing public, especially since the SEC Davao Extension Office has received numerous complaints against XIAN COINS representatives and agents operating in its AOR.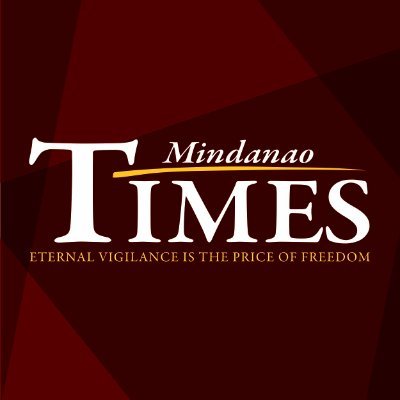 Source: Mindanao Times ( https://mindanaotimes.com.ph/2021/11/25/the-securities-and-exchange-commission-has-issued-a-cease-and-desist-order-against-xian-coins/#utm_source=rss&utm_medium=rss&utm_campaign=the-securities-and-exchange-commission-has-issued-a-cease-and-desist-order-against-xian-coins)