DAVAO CITY—Vice President Sara Duterte wore an emerald green gown with a free-flowing design and embroidery accent as she walked into history as the first Davaoeña to become the second-highest official of the land.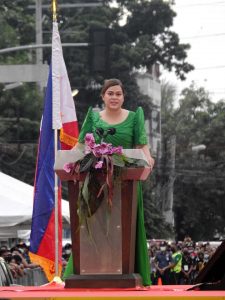 Green is the vice president's favorite color and the one she used since getting elected to public office.
Yesterday—before a crowd of thousands to witness the momentous event—Duterte was sworn in by Supreme Court Associate Justice Ramon Paul Hernando in a formal ceremony at the San Pedro Square.
President Rodrigo Duterte, who always has a strained relationship with his daughter, was also present at the event along with his wife, Elizabeth Zimmerman. Meanwhile, president-elect Ferdinand Marcos Jr. and his wife Louise Cacho Araneta-Marcos and his son, congressman-elect Sandro Marcos were seated in the VIP section facing the stage. Also in the VIP section was former president Gloria Macapagal-Arroyo.
Several Senators and Congressmen, members of the Diplomatic Corps, local government officials, and other guests and the public form part of the estimated crowd of 20,000 in attendance at the inaugural ceremony.
The inauguration started with a holy mass around 3 pm at San Pedro Cathedral. Accordingly, more than 600 very important persons (VIPs) attended the oath-taking ceremony.
More than 3,000 security forces composed of personnel from Davao City Police Office, Task Force Davao, Special Weapons and Tactics (SWAT), Bureau of Fire and Protection (BFP) XI, and other personnel secured the area.
According to the DCPO, an estimated crowd reached 14,500 who attended the inauguration.
Tight hug, poker face
After Duterte took her oath, she gave her mother a long and tight hug.
When she moved to face her father, President Duterte extended his hand in a formal greeting. But the mayor pulled her father in for an embrace to the delight of the crowd who was familiar with their history.
It's hard to read President Duterte's mind as he remained stoic during the picture-taking. The only time he smiled was when his grandaughter poked him to get his attention during the family photo.
Previously, he expressed his disappointment when his daughter decided to run for vice president despite leading all surveys for the presidency. He was also critical of Marcos Jr., whom he called a "weak leader."
All the VIPs who supported the Uniteam, the campaign strategy of Duterte and Marcos Jr., walked the red carpet to witness the vice-presidential inauguration. Spotted were senators Bong Go, Bong Revilla, Ronald dela Rosa, and Imee Marcos. Also, presidential spokesperson Harry Roque, Liloan Mayor and incoming tourism secretary Christina Frasco, and senator-elect Loren Legarda, senatorial candidates Herbert Bautista and Larry Gadon, as well as Pastor Apolo Quiboloy were also in attendance.
Sara's priorities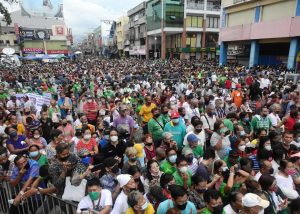 During her inaugural speech, the vice president-elect said one of the most important lessons she learned was committing to heart her priorities—God, country, and family.
She said "My life is a testament to the power of a God, whom we know by many names. My younger self was consumed by a dream to become a doctor. I pursued a pathway that I thought could help me realize that dream, but I was directed toward another way. And now I am a lawyer. "
"When I committed myself to governance and public service, I was also determined to finish three consecutive terms as mayor. That will not happen anymore. I am now the Vice President-Elect," she said.
The outgoing mayor received 32.2 million votes during the election.
"There is a God. A God whose will transcends the desires of our hearts, one whose will directs us to the way that we might not have imagined — but a way that consecrates ourselves every day to help our fellowmen overcome the difficulties they face in their lives, to change lives, to save lives."
Country
"Today, we celebrate the life and works of our national hero, Dr. Jose Rizal. May his memory light up the fire within us to become patriots. Rizal taught us that selflessness and sacrifice could change our country's fate and shape our children's future. The bravery of Rizal completes the fabric of our identity as Filipinos.
"Let us show our love for our country by taking care of our families and communities despite the unending challenges that come our way," she said.
Family
"Today is Father's Day. This is a time for families to celebrate — but you are here with me.
"Happy Father's Day to all the fathers who make sure that another person is given the best of everything.
"Today, our children are facing a very complex future, one that is rife with conflict and uncertainties. Some of these challenges include the winding cycle of poverty, the trauma of broken families, the life-long baggage because of irresponsible and bad parenting, the abandonment issues due to an absentee parent, the anguish of gender confusion and discrimination, the destruction brought about by drugs, the lure of easy money in criminality, cases of HIV and other sexually transmitted diseases, the failure to identify and speak up against different kinds of abuses, the life altering effects of teenage pregnancy, the detrimental effects of illiteracy, the emotional injury of bullying, unstable mental wellness, recruitment to support terrorism, misinformation in the internet — and the list could be endless," she added.
Duterte, who was given the education portfolio by Marcos Jr., said a strong, loving, happy family sets down all the basic foundations essential in the development and growth of a child. At home, parents have the duty to teach children the values of integrity, discipline, respect, and compassion for others."
"And we should never forget that it is the duty of each Filipino family to emphasize that education begins at home," she further said. "We should not as we could not afford to squander the future of our children,"
VP's gown
Silverio Anglacer, the vice president's longtime public image consultant, said in a telephone interview Sunday morning.
Aside from the vice president, Anglacer also designed gowns for her mother, Elizabeth Zimmerman, daughter Mikhaila María or better known as Sharky, and Bella, daughter of incoming mayor Sebastian Duterte. He has also created outfits for Duterte's sons Mario Lucas or Stingray and Marco Digong or Stonefish and even husband Manases Carpio.
Asked about the motif of the dress, Anglacer told TIMES he just came up with his own design as the vice president gave him the free reign on how to realize his vision.
"I just put some accents where I think fit," he said as Duterte has been his client since the first time she took her oath as mayor of the city in 2010.
Before her father Rodrigo became President in 2016, Duterte would visit Anglacer's shop at least thrice a year. "When her father became President it was difficult for her to visit because of the PSG (Presidential Security Group)," Anglacer said, adding that it was the outgoing mayor's trust that gave him the confidence to come up with creative designs that fit the personality of the vice president.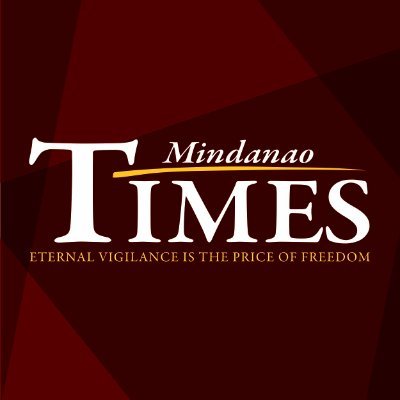 Source: Mindanao Times ( https://mindanaotimes.com.ph/2022/06/20/witnessing-history-sara-takes-oath-as-first-ever-davaoena-vice-president/#utm_source=rss&utm_medium=rss&utm_campaign=witnessing-history-sara-takes-oath-as-first-ever-davaoena-vice-president)