THE Police Regional Office has vowed to support the National Bureau of investigation in the of the murder of teenager Amierkhan Mangacop on July 2.
"Full support po kami, we are always open sa mga needs ng NBI kung may kailangan po sa amin, full support po kami. In the end iisa lang po ang hangad ng NBI at Philippine National Police [na] ipakita ang katotohanan sa naagrabiyadong partido," Brig Gen Benjamin Silo Jr., PRO 11 director, said in a statement Monday.
The statement came about after the police received flak in the handling of the case as the suspect, Dr. Marvin Rey Andrew Pepino, a son of a late police general, was its non-uniformed personnel.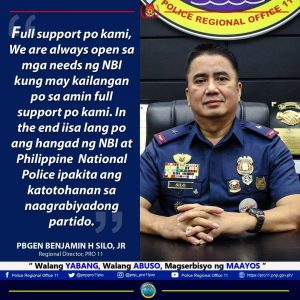 The family of the victim sought the help of the NBI after taking note of some missteps of the police investigators which it believed might lead to a whitewash.
In a related development, Elias Leañio, NBI 11 spokesperson, said the NBI team from Manila that arrived Sunday night proceeded to Maguindanao, the residence of the victim, to convince his relatives to allow them to conduct an autopsy on his body.
The NBI regional office earlier said it has started interviewing those who might have information on the case. It also presented to the media the helmet which the victim allegedly wore when the suspect allegedly shot him seven times that resulted in the immediate death.
Based on the information from the family of the victim, he was there to fetch his cousin who sought his help to accompany him home as there were groups quarreling inside the bar where he was killed.
A police blotter earlier claimed the victim, which it even claimed was 21, was part of the group who had an altercation with the suspect and that the suspect felt in a disadvantage that prompted him to pull out his firearm and shot him seven times.
The PRO also announced over the weekend that it was filing a complaint against its personnel for bringing his firearm outside his residence even without a permit.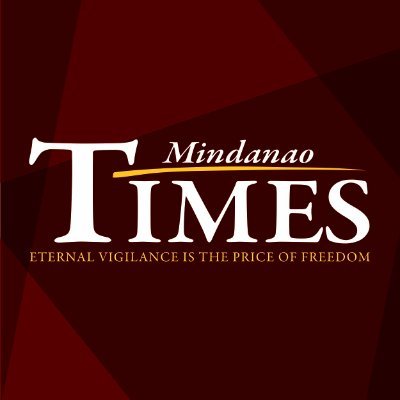 Source: Mindanao Times ( https://mindanaotimes.com.ph/2022/07/12/pro-vows-to-help-nbi-in-murder-case-vs-its-physician/#utm_source=rss&utm_medium=rss&utm_campaign=pro-vows-to-help-nbi-in-murder-case-vs-its-physician)