TWO OF the minors denied being snatched after news of their alleged kidnapping went viral on social media over the past few days.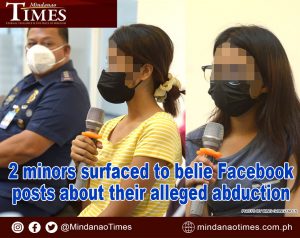 A grade 9 student, reported missing on Aug. 28, and a grade 11 student, reported missing on Aug. 23, have surfaced to deny that a crime ever happened The minors personally appeared Monday afternoon with their parents during a press conference at Davao City Police Office.
The minors strongly denied the allegation on separate occasions.
Both claimed they tried to run away from home due to personal problems with their respective families.
They made a public apology yesterday for their action that caused so much confusion and fear to the public due to irresponsible posting of unverified reports on social media.
In a statement, Col. Alberto Lupaz, Davao City Police Office director, said they would pursue those individuals responsible for spreading malicious information that caused alarm and painted a negative perception of the city's peace and order.
Meanwhile, the Davao City Police Office (DCPO) and the Police Regional Office XI cautioned the public against posting malicious information on social media as it has legal implications.
Maj. Ma. Theresita Gaspan, DCPO spokesperson, clarified in an interview with the Davao City Disaster Radio on Monday, August 29, that there is indeed a white van roaming around but it rescues kids in the streets.
"If we have a white van, that is the one that rescues children from CSWDO (City Social Welfare and Development Office), children who are mendicant, selling in the streets who are vulnerable to accidents, as well as IPs and mentally challenged person but there is Davao Life is Here is printed at the van's sides)," Gaspan said.
She further said that the DCPO has already deployed personnel to monitor schools in the city to ensure the safety of the students against perpetrators.
Recently, Brig. Gen. Benjamin Silo Jr., regional director of the Police Regional Office XI, issued a directive to his officers to investigate and file criminal charges if necessary. The warning comes in the wake of the circulation of Facebook posts alleging a spate of hold-up robberies, theft, kidnappings, and rape in the cities of Davao, Digos, and Panabo.
Immediately, personnel from the Regional Special Operations Group, Regional Intelligence Division (RID), Davao City Police Office, and the Regional Anti-Cybercrime Unit conducted a deeper investigation to verify the allegations.
They identified Charles Japheth Lagradante Luzada, an 18-year-old student from Toril District, as one of the persons who spread the post about a series of robberies in Davao City.
Luzada has since issued a public apology for posting the false information on his social media account.
Nevertheless, police are now preparing a complaint for violation of Article 154 of the Revised Penal Code, stating that "any person who by means of printing, lithography, or any other means of publication shall publish or cause to be published as news any false news which may endanger the public order, or cause damage to the interest or credit of the State."
They will also file a case under Cybercrime Prevention Act of 2012, which imposes a penalty one degree higher.
Likewise, under Republic Act 10591, the penalty for violations of Article 154 shall be imprisonment for six months and a fine ranging from PHP 40,000 to PHP 200,000.
"Fake news spreading in social media is very alarming, it has already caused panic and fear to the people, likewise, discredits the effort of our police in maintaining peace and order. We hope that this will serve as warning to the public to avoid spreading false information and posting fake news on any social media platforms. We will also pursue and investigate any post for clout which may affect public safety and order," Silo said.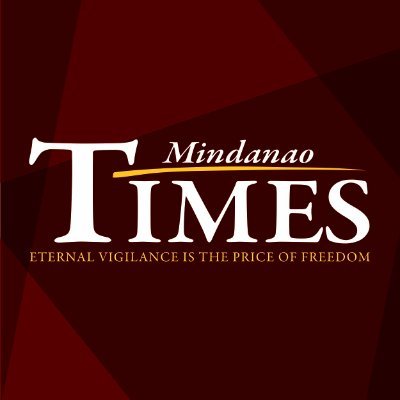 Source: Mindanao Times ( https://mindanaotimes.com.ph/2022/08/31/64113/#utm_source=rss&utm_medium=rss&utm_campaign=64113)