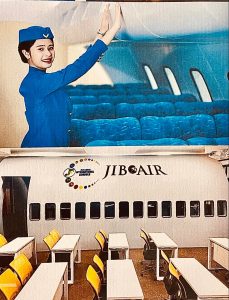 "THE cooperation and partnership of PAL Express AVP/Director Leonides Pena with the Joji Ilagan Bian International School's (JIB) big boss, Nicole Bian-Ledesma, provides the opportunity for our young Davaoenos and even those all over Mindanao to apply easily as cabin crew without the hassle and burden of going all the way to Manila to do so. The International Management School (IMS) is more than happy to open our doors to all those who want to apply. PAL Express makes the dreams of these young people come true. We always look forward to PAL Express' recruitment day," said the founder and proprietor of the JIB International Schools, the Honorary Consul of Bangladesh Joji Ilagan Bian.
Last September 10, 2022, at 8:30 a.m. PAL Express AVP/Director Leonides Pena came to Davao for a PAL Express Cabin Crew Recruitment held at the JIB International School of Hotel and Tourism Management, IMS Building along de Jesus Street. Leonides Pena has more than three decades of experience in the airlines/aviation industry of the country. He is skilled in Customer Service Satisfaction, Employee Engagement, Employer Branding, and Social Media Advertising. The gentleman is noted as a strong business development professional armed with a Bachelor of Science major in Marketing degree from the Angeles University Foundation. "PAL Express, which is legally known as Air Philippines Corporation and formally branded as Air Philippines and Airphil Express, is a subsidiary airline of Philippine Airlines which is under its ownership. It is PAL's regional brand with services from its hubs in Manila, Clark, Cebu and Davao," Pena made clear. PAL, of course, is the country's flag carrier. It is the Philippines' largest international airline; and the only full-service Filipino air carrier offering Business Class, Premium Economy and Regular Economy services.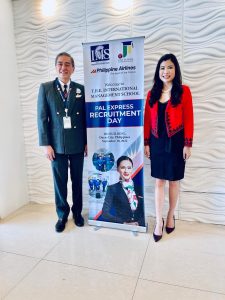 "A flight attendant is also known as a steward or stewardess and is a member of an aircrew aboard commercial flights. Collectively known as cabin crew, flight attendants are responsible for passenger safety and comfort," Pena pointed out. The PAL Express director also pointed out that there are four rounds in a cabin crew interview. The first round is on self-introduction; the second is extempore round; then the BMI check; and finally, the interview with the higher authority of the company.
"As a PAL cabin crew, you become the Ambassador of the airline to secure the loyalty and the frequent business of travelers. While maintaining standard grooming of the hospitality industry; you are required to ensure the needs of others being sensitive to the understanding of special needs and other cultures accomplished in a professional, enthusiastic and caring manner. As a PAL cabin crew, you should allow resolving situations with calm and self-confidence especially in handling difficult customers/passengers," lectured Pena. As a PAL cabin crew, you are compensated with a five-figure monthly salary; air ticket facility for personal use and for your family; as well as life insurance and health insurance benefits.
PAL Express Director Pena also disclosed that about 70% of the cabin crew are women. He also revealed that those coming from the provinces, like Davao, prove to be very good flight attendants as they strive hard and work even harder.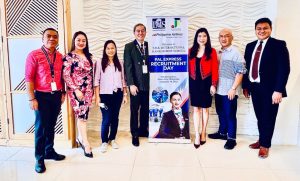 In Davao, JIB's International Management School prides itself on "being the first of its kind in the region, a true pioneer of transnational education." "We have forged strategic partnerships, like PAL Express, and linkages both locally and abroad to give our students industry-calibrated experience and work-immersive learning. Our institution gives our students that competitive advantage for career and work. Our students enrolled in the BS International Tourism Management Program take a subject called 'Inflight Stewarding' as part of the curriculum. They learn about inflight services, safety and security, and personality development. We are the only institution in the whole of Mindanao which offers this course. More than the skills, we teach them to be confident, to carry themselves professionally, and refine their communication skills. They also have classes in 'airline cabin simulation suite/simulated airline cabin' where they put into practice all the lessons in a real and safe environment," detailed Nicole Bian-Ledesma, the Chief Operating Officer JIB International Schools.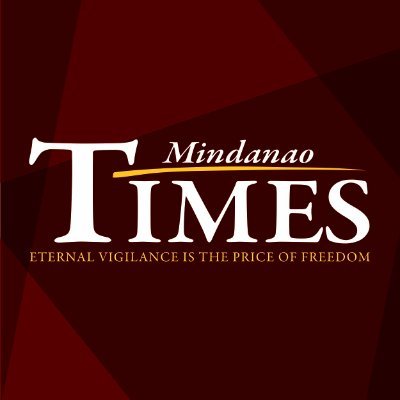 Source: Mindanao Times ( https://mindanaotimes.com.ph/2022/09/16/cultural-potpourri-pal-express-partnership-with-ims/#utm_source=rss&utm_medium=rss&utm_campaign=cultural-potpourri-pal-express-partnership-with-ims)