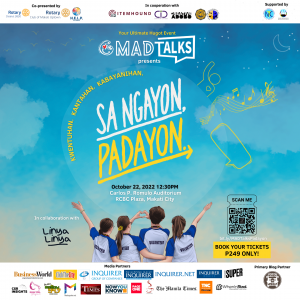 I am M.A.D. (Making A Difference)'s award-winning MAD Talks (Making A Difference Talks) is more than just a forum. It is a caravan of rich and inspirational stories that gathers youth groups all over the country to celebrate the Filipino culture of bayanihan or volunteerism. Its vision: To propagate stories of volunteerism and selflessness to encourage more people to become volunteers themselves and start making a difference.
In a nutshell, the MAD Talks solicits, shares, and showcases volunteer stories from and to its target audience (who are mostly youth and young adults) through various channels of storytelling such as live events, online, and shortfilms. With its tagline "Nagmahal. Nasaktan. Nagvolunteer", it aims to inspire more people to venture into volunteerism and make it a lifestyle. Led by stories of individuals, it helps people find their life purpose through "nagmahal", have the perseverance to pursue their passions with "nasaktan", and use their God-given abilities to make a difference in "nagvolunteer".
MAD Talks solicits stories from its own volunteers believing that the life-changing experiences they had in the camps are emotionally powerful. It aims to share stories of love, pain, and selflessness in the hope of inspiring more people to live a life of volunteerism. Moreover, it showcases the works of passion of the volunteers through different channels catering to different audiences.
From the more than 48 MAD Talks Events organized with the help of different partners, over 5000 estimated participants who are mostly youth and young adults have already experienced and celebrated the beauty of volunteerism through storytelling. Ivan Jed Rosal from the University of San Jose Recoletos in Cebu City, after attending MAD Talks in Cebu last May 3, 2015, was brimming with inspiration and optimism that after just one month, he has organized his own MAD Camp in Olanggo Island together with his friends.
Aside from the 12 MADthologies featured at x.rappler, stories about volunteerism and the group, I am M.A.D. has since been published in newspapers, magazines, and online sites. The organization has also been featured in various TV shows, and its volunteers are invited for interviews in different radio stations. These efforts have generated an estimated media mileage of Php 162 million as of August 2022.
Since intensifying efforts to share stories of volunteerism, I am M.A.D. witnessed a growth in volunteer sign ups and a boost in its existing volunteers' level of participation. Before, we had difficulty in getting volunteers. Today, our problem is the lack of camps for the volunteers to participate. And we believe this is because of how we communicated our volunteer stories to the public.
For instance, Gliza Vienna Harina who formerly worked in Riyadh, Saudi Arabia as a nurse, read a MADthology online. This encouraged her to be an I am MAD volunteer. She attended her first camp in Guimaras last June 10-12, 2017. Now, Gliza has written her own MADthology and even became one of the speakers at the MAD Talk in Cavite last July 8, 2017. This is how MAD Talks empower people to share their stories after being inspired by the project.
MAD Talks is more than inviting people to volunteer in I am MAD. Its long term vision is to see individuals volunteering even outside the organization; MAD Talks is a platform for them to realize the value of this rich Filipino culture which is volunteerism. (Organized by I am M.A.D. (Making A Difference) A non-governmental platform for volunteerism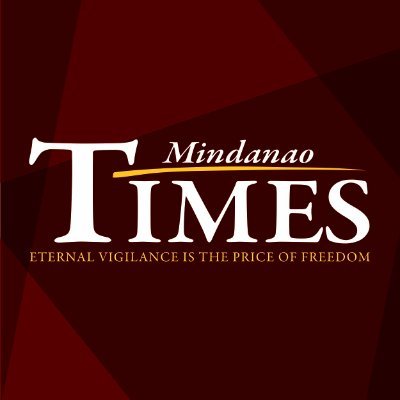 Source: Mindanao Times ( https://mindanaotimes.com.ph/2022/09/27/64846/#utm_source=rss&utm_medium=rss&utm_campaign=64846)