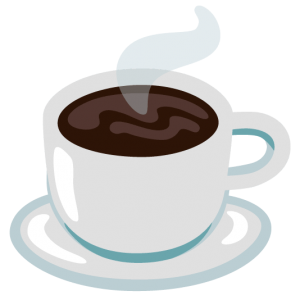 Warden's dream to pilot BPO facility inside Davao City jail
WITH BARBED wires looping around a 20-foot-tall concrete fence, 24/7 high-tech cameras, highly trained guards, and sniffing dogs, this otherwise nondescript building sitting on a narrow alley about six kilometers away from Davao City Hall has the potential to become one of the most secure BPO centers in the country.
After all, behind its imposing metal gates reside more than 800 persons deprived of liberty (PDLs), about 100 of them experienced call center agents and supervisors.
Converting a portion of the Davao City Jail Annex—burrowed in a rather populated area in Barangay Ma-a, Talomo District—into a call center operation manned by talented customer representatives seems like a tall order.
But it's not really that difficult to imagine. You only need a leader who's willing to listen to what seems to be a harebrained scheme.
The city jail annex is already teeming with ready talent.
Plenty of it, in fact.
Marco Avelino, 43, a resident here for one year and eight months, said he has plenty of co-PDLs with real-life experience in the BPO industry. By his estimate, about 50-100 individuals have worked in either a voice or non-voice contact center company.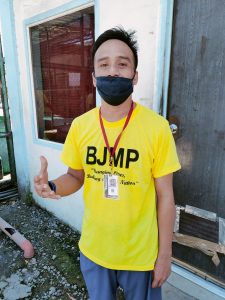 Leveraging his experience as an operations manager for many years, he said they could field talents after refresher or technical training of one to two weeks.
"Why don't we harness them? The idea has been germinating in my head since I realized how many of us are here. But I had to keep my mouth shut until I found someone who was open to the idea," he said.
Like a good 80-90% of the population in the facility, Avelino is serving time for a drug charge. He said the very nature of the penal system is reformation, and they need something to rechannel their attention on and utilize their skills.
Ultimately, the proposed call center will provide an avenue for people like him to eke out a living while regaining their lives disrupted by a grave mistake.
Enter the warden
Looking back, it's probably predestined that Avelino would cross paths with JSInsp Rienzon S. Roullo, the newly minted jail annex warden who was assigned to the facility in August this year.
Fresh from his stint in Montevista, Davao de Oro, the 29-year-old warden was bristling with energy and optimism.
One of the initial projects he implemented was to drill water from 60 feet underground to provide the Davao City Jail Annex with a steady supply and bring down the monthly utility expenses. He had a similar project in his previous tour of duty, which saved them about P50,000 a month in water bills.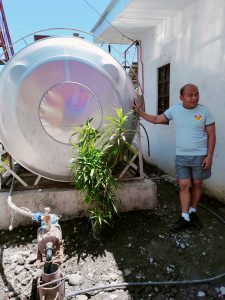 He also strengthened partnerships with TESDA and DTI for livelihood training and financial grants for PDLs to start their own business inside the compound.
Roullo said that when the idea of the BPO facility was presented to him, he immediately saw its potential.
"I only learned later that it's not a new concept since I was told that Region 7 and NCR already have similar projects," he said, adding they will probably adopt the best practices from other regions and tailor them to the specifications of the Davao City Jail Annex.
In a matter of days, Roullo managed to show a local BPO firm a rough draft of what he calls the "Call Center Office Livelihood Program 2022."
To say the response was optimistic was an understatement.
"It's a huge benefit to the BPO company since they can save a lot of money," he explained. "They don't have to rent a facility because we have everything here. Plus, they don't have to worry about the wages because we are flexible."
"Initially, we are asking P500 a day (for each PDL) but if they want it P450, then no problem," he added.
From multipurpose gym to
a contact center hub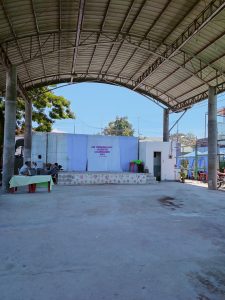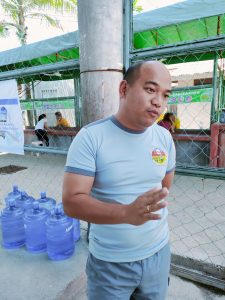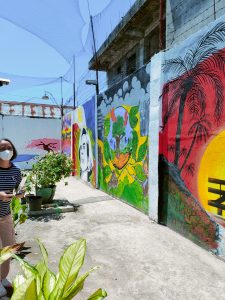 The multipurpose gym of the Davao City Jail Annex Metal has no distinct feature. Concrete pillars support the metal rafters, exposed steel beams, and arched roofs. The floors are rough and bare.
At the time of our visit, thin blue curtains adorn a makeshift wooden stage, with the words "UM Criminology Interns Culmination Day" lined in a column.
"Once we secure the funds, we will build a fully functioning BPO facility in the gym capable of accommodating 50-100 seats," he said.
Initially, the design calls for constructing a single-story facility that can easily be scaled up when necessary. The blueprint showcased a new stage for the gym, along with a reception area and an executive office for the BPO center.
Overall, the project design will cost between P800,000 to P1 million, including the terminals for each contact center agent, Internet connection, and other gadgets.
"But for construction alone, it may cost P100,000 to P200,000 because we will use glass and fireproof steel matts," he explained.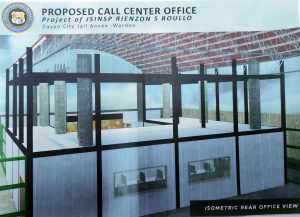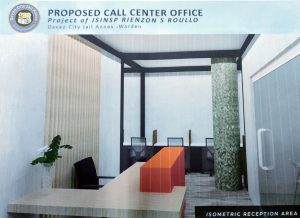 What about security?
For his part, Avelino said they could start with non-voice operations, including live chat, email and social media support, and computer coding, among others.
"This is only one of the things I can see that is feasible inside the jail. Aside from that, maybe we can focus on inbound calls at first, especially considering the security risks if the PDLs are allowed to make calls outside," he said.
As to the market, he said that they could target the UK since they don't have to schedule graveyard shifts, unlike in North America. This means PDLs can work from sunrise to dusk and immediately return to their cells after their shift for the night's routine head count.
no
"But these are all very fluid. It will still depend on what our warden and the private BPO partner has agreed upon based on their negotiations," he said.
Counting seconds
Djan Lisoon, 35, has been languishing inside the secured compound for three years and counting. Arrested on a drug charge, the worst thing about being incarcerated is all the time waiting for seemingly nothing.
For now, he is still waiting for the next schedule of his trial. Cells designed to accommodate only less than 400 people have shrunk as the population doubled in size.
The space assigned for PDLs to stretch their legs and conduct interpersonal activities hummed with energy at noon when TIMES visited the facility.
Food carts with street foods and ready-to-eat meals sold by enterprising inmates lined one side of the square. You can also have an hour-long massage for P100, a pedicure and manicure, or get a haircut from a trained PDL.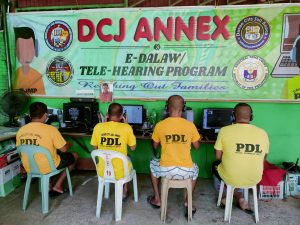 In recent months, the Davao City Jail Annex has become a microcosmic representation of the free market economy—one where you cannot participate without money.
"My parents are from Tagum, and I also have siblings, but I don't ask them for money," he said. "So, I am excited to give back to my family again instead of depending on them."
While working for two different call centers in Davao City, he easily cleared about P35,000 each month. However, he exhausted all his savings after being detained for three months before his transfer to the Davao City Jail Annex.
"I already closed my account. So, it aggravated my feeling of helplessness, especially when my mother was admitted to the hospital for COVID,
"My siblings did not ask me to help with the hospital expenses, saying they could handle the problem on their own. But I know they struggled to raise that money," Lisoon said.
More than the money, he said the opportunity to work again would give him a sense of purpose. He no longer has to count the seconds, minutes, and hours inside his cramped cell, waiting for the siren blares and the iron doors to open so they can go outside to stretch their tired limbs and socialize with other PDLs.
"I have about six hours of freedom to be myself inside the compound. But if I can have the chance to work in a call center here, my mind can be free again," he said.
Target 1st quarter of 2022
Hopefully, the warden said their private partner could provide the funding to set up the BPO facility. If not, he will solicit funding from the city government to realize the project. "Unfortunately, our budget is only enough for food, gas, and other necessities to run the jail," he said.
If all goes well, the Davao City Jail Annex will already start operating its call center operations by the first quarter of next year.
"We can even start with five to ten seats at first just to prove that it can work," Roullo said, flashing a big grin. "I know it will work, so I'm confident."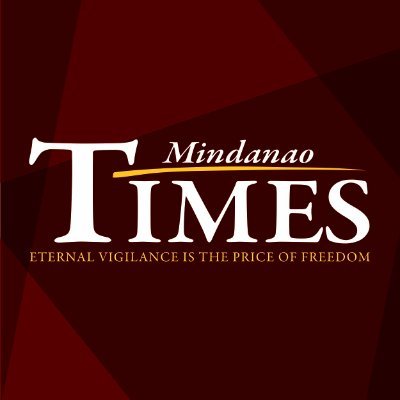 Source: Mindanao Times ( https://mindanaotimes.com.ph/2022/10/14/65424/#utm_source=rss&utm_medium=rss&utm_campaign=65424)