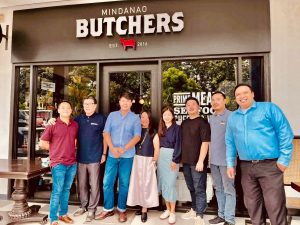 MY mom and dad used to say that steaks, besides lechon, are the best things that man has ever made. And yes, they always required their steaks to be done medium rare and cooked over a hot grill to produce the best flavors of beef. Since I am no steak expert who understands what goes into a good piece of steak, it was, indeed, an eye opener attending Mindanao Butchers' "Beyond Ribeye" presentation last September.
Thanks to the Crazy Chef (or is it Crazy Cook?), Carmina Mapa-del Rosario, who invited me to "discover, learn and taste the different cuts of imported prime meats." Goodness, but who could refuse such an invite? It was basically a hot afternoon lecture on Steak 101: the Whats, Hows and Whys about steaks by the respected chef Amir Gan Bin Abdulla. It was a well-attended SRO affair despite Carmina's "tayo-tayo lang" assurance.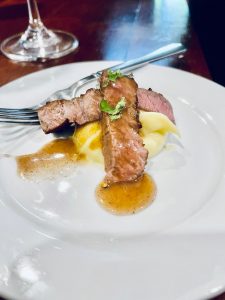 "For as long as I can remember, it has been my ultimate mission in life to travel the world in order to eat well. That's why we've decided to partner up with Oleo Fats who shares the same passion…Our food philosophy is simple. Everything starts with quality ingredients. We steer clear of gimmicks and stick to the brands we respect most that we know you will enjoy," said Carmina when she warmly welcomed the guests as she added, "The Davao market is only familiar with Ribeye, and not the other cuts." And showcased, Mindanao Butchers did, with the other flavorful meat cuts.
Chef Amir Gan Bin Abdulla did a mighty fine lecture which held the guests' interest from start to the end and happily interspersed with some tasty steak tasting.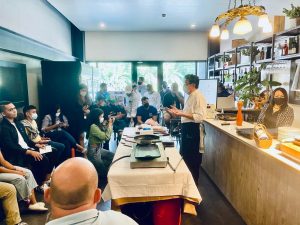 The chef is a graduate of the College of Catering in Dublin. He has masterfully served as Technical Consultant and Representative of Thailand, Vietnam and Cambodia for the Meat & Livestock Australia, South Asia Marketing Division of the Australian Red Meat Industry.
The good chef has been conducting training seminars for the food service and retail sector in China, Sri Lanka, Nepal, Indonesia, Singapore and the Philippines. He has also served as judge in several international cooking competitions.
Presently, chef Amir sits as Business Development Consultant for Oleo Fats Inc. in Manila. Oleo Fats Inc. is the Philippines' "top specialty ingredients supplier, manufacturer, and distributor in the country with over three decades of experience."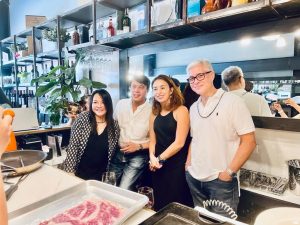 Pinoy steak lovers would always ask if the meat is imported and if it is tender before they order. But chef Amir also pointed out that marbling also plays a factor in choosing your steak.
Marbling are those streaks of fats you see on your steak. The more marbling, the more buttery the flavor. From the best cuts of steak like T-Bone, Porterhouse, Ribeye, Fillet Mignon, New York Strip, among others, I've learned from chef Amir an additional steak vocabulary, Picanha.
It is a cut of beef that comes from the top of the rump cap muscle (almost similar to top sirloin cap); and is considered popular as Brazil's favorite cut of beef. Do take note that Brazil's affordable and flavorful cut of meat is available only in Mindanao Butchers here in Davao.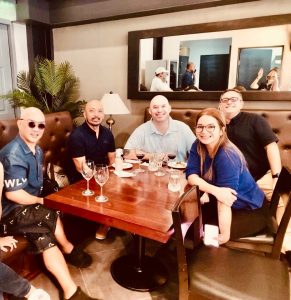 This coming October 25, Mindanao Butchers is again presenting Philippine Tatler's Best Restaurant Bar Pintxos with its fantastic tasting menu of nine dishes that Davaoenos still have to experience. This is one culinary experience I am eagerly awaiting.
Thank you, Raffy and Carmina Mapa-del Rosario, Carlo Calma Lorenzana and of course, Mindanao Butchers for the rich culinary treats. Vamos a comer, mis amigos y amigas!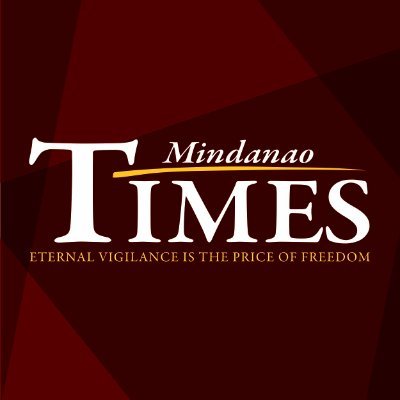 Source: Mindanao Times ( https://mindanaotimes.com.ph/2022/10/25/steak-101-at-mindanao-butchers/#utm_source=rss&utm_medium=rss&utm_campaign=steak-101-at-mindanao-butchers)