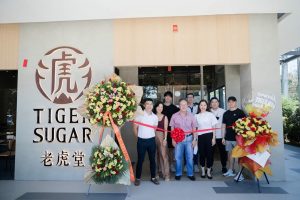 I NEVER imagined that bubble tea and pearl milk tea would become so popular in the country. After all, Pinoys are basically not tea drinkers. So why are these beverages now so popular in the Philippines especially among the kids and teens of the millennial generation? One report stated, "With its cool, refreshing taste, coupled with fun, delightful sinkers such as chewy pearls, the Philippines has officially embraced the beverage as an everyday feel good staple of happiness in a cup." Of course, social media played a big part in popularizing the beverages by encouraging our tweet-addicted teens to post their pictures and share information about these popular drinks on facebook, instagram, viber, tiktok, to mention some.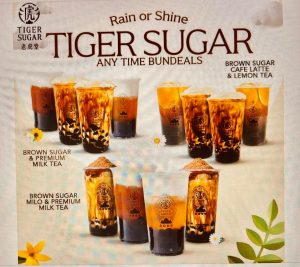 Last September 21, Taiwan's Tiger Sugar opened its sleek teashop in the CT Drive Compound along Tulip Drive (presently renamed Villa Abrille Road), Matina, Davao City. It was on September 5, 2020, when young businessman Jasper Ngo and partners opened the first ever Tiger Sugar in Mindanao at the Abreeza Mall to big success despite the pandemic. I truly admire the entrepreneurial Ngo siblings Jason, Daryl and Jasper in their determination and passion in the various businesses they are involved in. Of course, it's with the support of their devoted parents, Mr. and Mrs. Gerry Ngo; and trustworthy business partners like Kerwin Lu, Gibo Go, Penpen Alegre, Guiny Koa and Len Lim.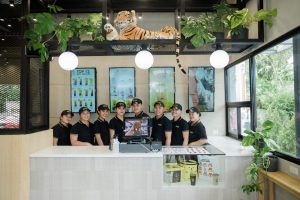 Tiger Sugar is distinctly known for its sugar-streaked milk teas. The unique drink made with a combination of brown sugar syrup with tapioca pearls and fresh milk was first introduced by its founder, Ming Tsung Yang, in his dessert shop in Taichung, Taiwan, in the late 2017. The drink's distinct presentation made it stand out in the competitive bubble tea and pearl milk tea markets. The sweet caramel taste with a silky texture along with chewy tapioca pearls of Tiger Sugar makes it a beloved treat to both young and old. Boba and pearl indicate the size of the chewy tapioca balls. Boba is the larger sized sago balls that we are familiar with while the pearls are smaller ones.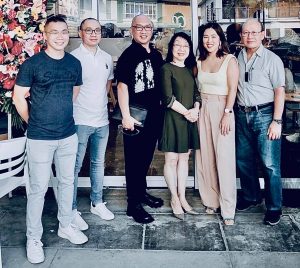 Tiger Sugar comes in various kinds like Brown Sugar and Milk Tea, Brown Sugar Café Latte and Lemon Tea, Brown Sugar and Premium Milk Tea, Strawberry Daifuku, Strawberry Jasmine Green Tea, Vanilla Black Tea Latte with Cream Mousse, among so many others which prompted Daryl Ngo to emphasize, "What makes Tiger Sugar different from those bubble teas offered in the Davao market is that we don't skimp on quality ingredients. We guarantee that we only offer the best in every cup of Tiger Sugar we serve our customers. And we serve your orders with a smile."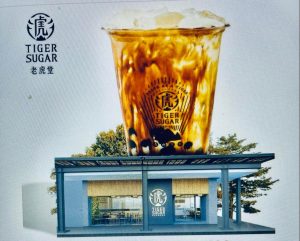 "Tiger Sugar is in line with our business philosophy of offering Davaoenos and the people of Mindanao an exceptional gastronomic experience. We want to add value to the communities where we place our businesses; and we think Tiger Sugar does exactly that," commented Jasper Ngo.
The Ngos are known to be health conscious gymgoers and they have the enviable six-pack abs to show as testimony of their discipline and hard work. So why invest on Tiger Sugar? "We believe that being health conscious is a lifestyle. And that includes not just the physical aspect, but also involves the mental and spiritual parts that impact one's life. Treating yourself to something you love in moderation is good for your overall wellness," reasoned Jasper.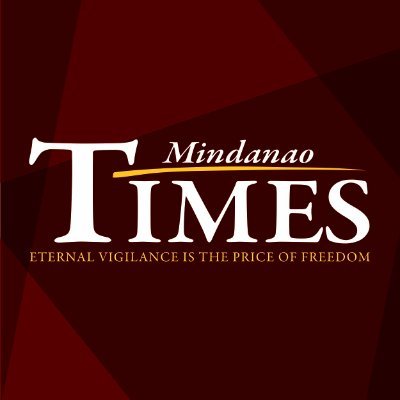 Source: Mindanao Times ( https://mindanaotimes.com.ph/2022/10/07/cultural-potpourri-the-tiger-sugar-trend/#utm_source=rss&utm_medium=rss&utm_campaign=cultural-potpourri-the-tiger-sugar-trend)