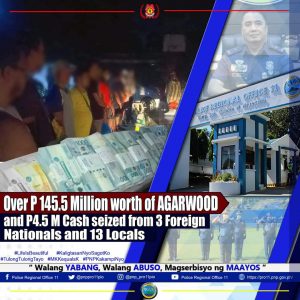 AUTHORITIES arrested 16 individuals, including three Malaysian nationals, and seized the smuggled agarwood in the operation conducted in Tagum City, Davao del Norte, on Oct. 7.
Police identified the three arrested Malaysian nationals as Hamdan Zakaria, Alyasah Zakaria, and Shahidan Saari, together with Dennis Asuncion, who acted as their interpreter.
Moreover, the police identified the 13 others arrested during the operation as Philip Duray Tayabas Macangao, Renato Atumay Bosquit, Jay Ralph Rebao (Brgy. Kagawad of Brgy Sinibungan Abuyog Leyte), Mark Lester Geneston, Benjamin Alfeche Jani Jr., Arnolfo Dela Cerna Ishikawa, Jacqueline A Sato, Ricky Inojales, Richard Talisa Layan, Edwin Duray Lawanis, Elmer Akhmad Sison, Jay Glen Sarsonas Anzon, and Roldan Tupiasan.
The operation was jointly conducted by Tagum City Police Station, Regional Special Operation Group (RSOG) 11, Provincial Public Safety Mobile Unit (PPSMU)-Davao Oriental Police Provincial Office (DOPPO), together with the Philippine Coast Guard and Department of Environment and Natural Resources (DENR).
During the actual operation, around 145.5 kgs of Agarwood with an estimated value of P145,500,000 was confiscated, along with cash amounting to P4,317,000.
Police said the suspects will be facing charges for violating PD 705 (Forestry Reform Code of the Philippines) and (Wildlife Resources Conservation and Protection Act) RA 9147.
Currently, the confiscated Agar Wood and cash, as well as the three Malaysian Nationals and Asuncion, are under the custody of RSOG 11, while the thirteen others are under the custody of Tagum City Police Station for proper disposition.
PRO XI director Brig Gen Benjamin Silo Jr. lauded the operating team's efforts while warning against continuing to commit crimes in any area of Davao Region because PRO 11 will never stop pursuing them and holding them accountable for said illegal activities.
The regional police said the operation was under the direction of BGen Silo and in accordance with C, PNP's strategic peace and security framework MKK=K (Malasakit, Kaayusan, Kapayapaan tungo sa Kaunlaran)." Thus, this will continuously and actively conduct intensified anti-criminality operations."
Guided by PNP's core value "Maka-kalikasan", the PNP-PRO11 strictly adheres to the preservation of Agarwood, which has been included in the Convention on International Trade list in Endangered Species (CITES), making cutting and selling them illegally.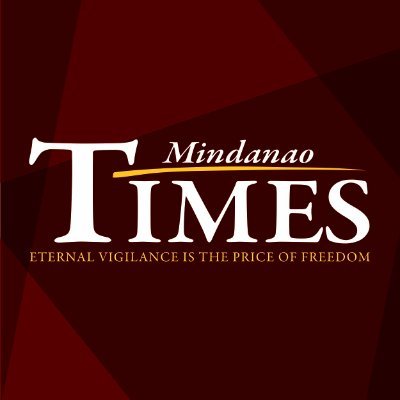 Source: Mindanao Times ( https://mindanaotimes.com.ph/2022/10/11/p145-m-worth-of-agarwood-seized-3-malaysians-nabbed-in-tagum-raid/#utm_source=rss&utm_medium=rss&utm_campaign=p145-m-worth-of-agarwood-seized-3-malaysians-nabbed-in-tagum-raid)