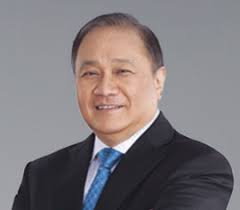 METRO Pacific Hospitals, the first and largest private hospital group in the Philippines, re-introduces itself with a new brand name, a new logo, and a new promise as Metro Pacific Health, the heart of Filipino health care. In Metro Pacific Health's Brand Equity Launch Event last October 12, 2022, tycoon Manny V. Pangilinan (MVP) announced that the organization will be focusing their efforts on network expansion and rebranding as the heart of Filipino healthcare.
MVP said in his keynote, "I have high hopes for Metro Pacific Health, and I commit to firmly supporting the Management teams and employees behind the organization. Together, we will achieve our vision of making Metro Pacific Health the leading and most valued integrated healthcare network in the Philippines, and one of Asia's most innovative and trusted healthcare providers.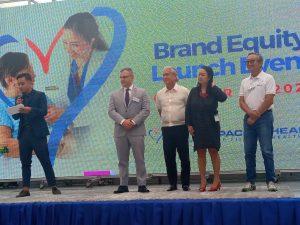 "The new branding is one of the many things that Metro Pacific Health is doing as part of their blueprint for growth to expand services to better meet customer needs, modernize healthcare with state-of-the-art technology in medical science and data, improve the end-to-end customer experience, and make world-class quality healthcare more accessible to many Filipinos. On top of upgrading infrastructure, procuring new equipment, and expanding product and service offerings, Metro Pacific Health is also looking into digitally transforming the landscape.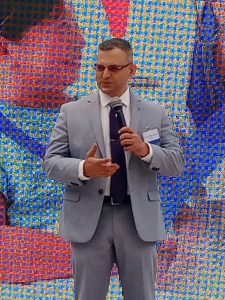 Dr. Harish Pillai, MHP CEO said "We're exploring remote patient monitoring, electronic health record systems, hospital-at-home programs, and all these other exciting opportunities that will revolutionize patient care in the country". This also includes introducing new virtual care platforms and upgrading hospital information systems to create an integrated digital access point –with capabilities to digitally search for and schedule appointments virtually triage symptoms, navigate to the right site of care, and access electronic medical records across the entire network.
Supported by Metro Pacific Investments Corporation, MPH has improved infrastructure, procured state-of-the-art medical equipment, offered more affordable healthcare options, built strong partnerships with both the government and the private sector, and expanded its services. All of these are founded on a solid alliance between seasoned Management professionals and the best doctors, nurses, and staff in the country.
In renewing its commitment to medical excellence and compassionate patient-care, Metro Pacific Hospitals has transformed into Metro Pacific Health, the leading and most-valued integrated healthcare network in the Philippines. MPH will invest in new technologies in both medical science and data. Digital transformation will improve the quality and efficiency of care, and also facilitate patients' access to it.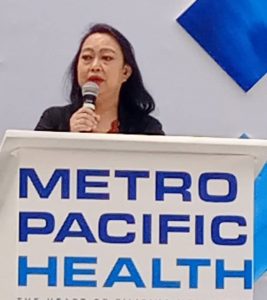 Imagine, a single patient ID for every patient in the interconnected network nationwide, armed with a safe and secure access to one's electronic medical records anytime, anywhere. It shall link up all aspects of healthcare — from treatment to wellness; from the most complex medical equipment to everyday gadgets; from hospital care to mobile care and homecare, or wherever you may be. And when disasters and calamities happen, they will be the first to provide medical aid.
As their network expands, they will never lose sight of their most important focus: their patient — keeping them safe and treating them well. Together, building a healthier Philippines, one patient at a time.
Metro Pacific Health's dream is for no Filipino to have to fly out of the country for world-class medical attention; for no Filipino to be deprived of high-quality healthcare; for no Filipino to have to leave their homes for an urgent consultation; for all Filipinos to be cared for with the compassion, kindness and empathy they deserve.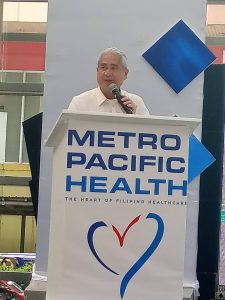 Their vision is to become the leading and most valued integrated healthcare network in the Philippines, and one of Asia's most innovative and trusted healthcare providers. With 19 hospitals, 3,829 beds, 22 outpatient care centers,9,535 doctors and 16,566 nurses and staff caring for 3.8M patients, they will provide compassionate and high-quality patient-centric care — unparalleled Filipino service that comes from the heart. Because while their standards are global, their touch stays personal. Metro Pacific Health — The Heart of Filipino Healthcare
Augie P. Palisoc Jr., MPH President says "In a short fifteen years, Metro Pacific Hospitals has become the largest private hospital group in the country comprising nineteen premiere hospitals, two healthcare colleges, twenty Outpatient Care Centers, and six provincial RT cancer centers with a total capacity of 3,800 beds, a pool of 10,000 doctors and 15,000 employees, all focused on serving approximately four million patients a year. We are probably just halfway in achieving our dream of a nationwide chain of hospitals and health care businesses in all key cities in the Philippines, our way of doing our fair share towards providing Filipinos accessible, dependable and affordable healthcare.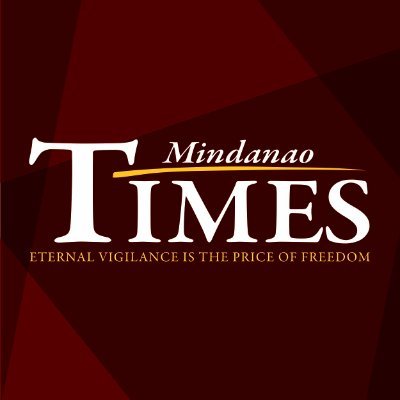 Source: Mindanao Times ( https://mindanaotimes.com.ph/2022/10/24/scene-city-metro-pacific-health-the-heart-of-filipino-health-care/#utm_source=rss&utm_medium=rss&utm_campaign=scene-city-metro-pacific-health-the-heart-of-filipino-health-care)