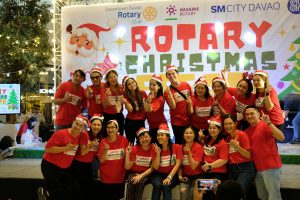 The Rotary Club of Downtown Davao (RCDD) made history this year by mounting the first ever Rotary Christmas Fiesta in the Philippines last December 10, 2022 at the SM Annex Activity Center, Ecoland, Davao City.
Inspired by the easing of pandemic-related restrictions and opening up of public spaces to face-to-face gatherings, RCDD brought back the fiesta atmosphere by gathering 14 Rotary clubs and nine Rotaract clubs in Davao City to promote the spirit of generosity and service.
"There is nobetter time to showcase the generosity, fun, goodwill, friendship, and fellowship of Rotarians than Christmastime," said RCDD President and retired Philippine National Police (PNP) Chief Archie Francisco F. Gamboa.
Aside from providing a safe space for engagement with Rotary's partners in service and beneficiaries to celebrate the holiday season, the Rotary Christmas Fiesta had two other goals: (1) to promote the spirit of hope and generosity among Rotarians and the communities they serve in Davao City and the Rotary brand of service and fellowship; and (2) to showcase the creativity of Davao Rotarians and Rotaractors and provide a platform where their stories and talents can be shared with a larger community.
The whole day affair had three major components: The Rotary Christmas Market showcasing local products from micro social entrepreneurs supported by RCDD; That's Rotary Entertainment showcasing talents of participating Rotary and Rotaract clubs on center stage; and Rotary Gives Love on Christmas, gift-giving to invited beneficiaries and donation drive from participants and mall-going public for the benefit of selected charities being supported by Rotary in Davao City.
Celebrating Economic Recovery by Supporting Local Cooperatives
The Rotary Christmas Market featured 16 micro entrepreneurs who are members of the Golden Unicorn Savings and Credit Cooperative (GUSCC), a Davao-based cooperative created during the height of the pandemic to help local micro and small businesses recover from the economic crisis brought about by the lockdowns.
Dr. Reuben Higinio S. Cabrera, GUSCC Chair, expressed his appreciation to RCDD for partnering with their micro cooperative for this economic and community development project.
"Our members' micro enterprises are essentially startups and home-based. Most of them are women and young people who started their businesses during the pandemic to make ends meet. The Rotary Christmas Market is their first bazaar experience so Rotary changed their lives with this opportunity," shared Dr. Cabrera.
Because of the success of the Rotary Christmas Market, RCDD and GUSCC intend to formalize their partnership to jointly organize community markets throughout the year to promote and support local micro enterprises. But beyond community markets, RCDD also want to help local entrepreneurs through a mentoring and business matching program.
"Rotary is a global humanitarian organization of business owners and professionals. We want to be able to use our knowledge, skills, and resources to lift up those who are starting their small businesses in our own communities," shared RCDD Past President Rozanne "Twinkle" C. Gamboa, also the District Governor-Elect of Rotary International District 3860.
Celebrating Creativity with the New Generation
It is not really a fiesta without contests and the Rotary Christmas Fiesta had two — the Rotary Star of Hope Parol Making Challenge and the Kumukutiku-TikTok Dance Challenge — participated in by the various Rotaract Clubs in Davao City.
Rotaract clubs are for young people ages 18 and older. Through Rotaract, the youth are being engaged in community service while having fun with their peers. Their leadership and professional skills are developed and ideas exchanged with community leaders.
"Contrary to popular perception, the new generation are not apathetic," said RCDD Past President and District Rotaract Chair Dr. Marilyn P. Puno. "They want to be engaged in community service and leadership but we have to provide a fun and safe environment for them to do so," she added.
That's Rotary Entertainment was designed with Rotaractors in mind. Tapping into the popularity of TikTok dance challenges, the young leaders expressed themselves freely on stage and showcased modern dance moves to Christmas music remixed for the TikTok generation.
The Rotary Star of Hope Parol Making Challenge is a way of continuing a Filipino Christmas tradition for the next generation and the young Rotaractors created fantastic lanterns using recycled materials and shared their stories of hope through their creations.
Rotaractors also had the debut performance of the Rotary District 3860 Jazz Band during the evening part of the Rotary Christmas Fiesta to the delight of the mall-going Davaoeños that night at SM Ecoland.
Celebrating Generosity with Children in Need
This Christmas RCDD chose as their beneficiaries 36 children from Child Hope Filed of Dreams Children's Home, a residential home for abandoned kids providing for their basic needs as well as a healing and caring environment to help them to be self-reliant and responsible persons.
The children were brought by RCDD to SM Ecoland from Tugbok, where the children's home is based, with their social workers and caregivers, to be the special guests for the special show. The children beneficiaries were not just the main audience, they were also the stars of the show.
It was an unforgettable and life-changing experience for the kids singing and dancing on stage with celebrity actor Arron Villaflor, one of the stars of the popular television series, "Ang Probinsyano."
They danced to the BTS hit, "Permission to Dance," and gave a moving interpretative dance of Michael Jackson's 'Heal the World," which brought tears to those who were watching in the jam-packed activity center.
"I am happy to be part of the Rotary Christmas Fiesta because my brother is a Rotarian and I know the good things that Rotary does for our communities in need," shared Arron, who volunteered to perform for free.
"Being able to share the stage with the children and bring them joy this Christmas is such an honor and privilege and I am grateful to the Rotary Club of Downtown Davao for inviting me to be part of this," Arron added.
Aside from sharing the spotlight with a famous celebrity, the kids also received gifts from the wish list they wrote from their RCDD ninongs and ninangs and feasted on their favorite Jollibee meals and treats from Julie's Bakeshop.
"We really felt the love and generosity of the Rotary Club of the Downtown Davao for these abandoned children through this amazing event," said Lalaine D. Cabaljog, head of the children's home. "They will remember this moment forever."
She added that the children were so excited they could not sleep thinking of the prospect of finally visiting SM mall for the first time and performing on stage before a public audience. They have been working hard practicing their dance presentation and they did not know that they would be joined by an actor they only saw on television so the happiness was even greater with the surprise.
A Celebration that "Got it All"
SM City Davao mall manager Lester Tantoco was pleasantly surprised by the Rotary Christmas Fiesta public reception and turnout.
"The uniformed pallet booths specially made for the Rotary Christmas Market are so beautiful and the product displays are diverse and of good quality," he exclaimed.
Kristianne Fusilero, who represented SM in the panel of judges for the contests, was also very impressed with the program and the entire show, which was hosted and organized entirely by volunteer Rotarians without help from professional event organizers.
"I had so much fun and learned a lot about Rotary through this event," she said.
The success of the first ever Rotary Christmas Fiesta inspired SM and RCDD to continue their partnership in holding the event every year and other events that will promote and benefit their shared causes.
Indeed, it takes a village to celebrate a Christmas fiesta that "got it all for you." Davaoeños can only hope that communal celebrations like this will continue in the new year as part of the city's cultural recovery and resilience.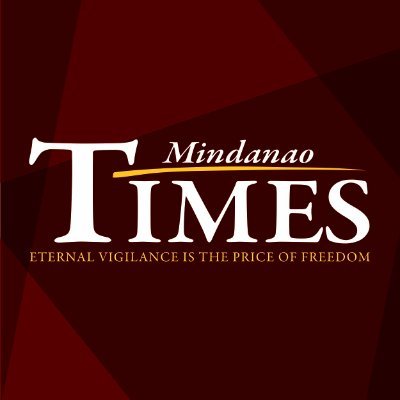 Source: Mindanao Times ( https://mindanaotimes.com.ph/2022/12/30/67392/?utm_source=rss&utm_medium=rss&utm_campaign=67392#utm_source=rss&utm_medium=rss&utm_campaign=67392)